Watch Chapters from a Personal Life-Story Video
This life-story video's theme is the subject's growth as a writer over her lifetime.
Chapter 1: "I Knew I Did the Wrong Thing"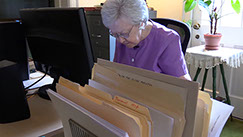 Chapter 2: "A Keeper of Stories"

My Life in Stories. com produces customized personal documentary videos about your life. Stories that friends and family will want to see, hear, and remember. More than simply recording a "personal history" video with a camera fixed to a tripod, My Life in Stories works with you to produce a focused, dynamic video that gives insight into your life.
The production process is personal and at your pace. For example, the sample personal documentary (at left) was filmed over several months. Interviews are never rushed and I do all the filming myself. There is no intrusive film crew.
CUSTOMIZING YOUR LIFE-STORY VIDEO
I will talk with you about your interests and what you may want to include in the video. Together, we will find a theme and discuss the extent of the project. For instance, how many locations to film, or how many interviews, family get-togethers will be included, and so on?
We will outline events / interviews that you want in the video.
There is no "cookie-cutter" package or production. Each personal documentary is unique and specifically tailored to your stories and interests. The goal is to make an interesting video that includes photographs and active scenes that are structured to help tell your story or stories. In the sample personal documentary on this site (see chapters at left), for instance, I traveled to eleven different local locations to show, as much as possible, important scenes from the subject's life.
This is not a hurried process. We will take time to make it feel right.

teaching of creative nonfiction. He will help you shape your life stories in interesting ways by finding themes in your experience or your family's.
PRICING
Each personal life-story video is an individually customized and priced documentary package. It includes scenes shot on location, family photographs, and interviews. Your personal documentary will be posted on the web for one year (on Vimeo), and you will receive DVDs (standard and/or Blu-Ray HD) as well as a flash drive with the HD video files of the final video.
You can email me to set up a telephone conference to discuss your goals and questions: TerryLee@mylifeinstories.com.
TRAVEL
I am based in Manhattan, New York, but travel to film important scenes and people in your life. Travel costs will be added to the individually priced package, as described above.
MY LIFE IN STORIES videos are produced by Terry Lee, a former journalist and professor with specializations in documentary video making, narrative storytelling, and the